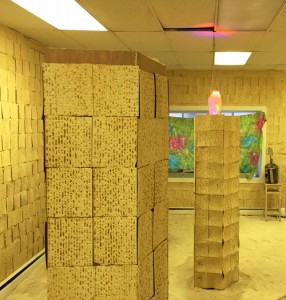 Rephael Epstein had an opening reception on March 21st,to launch his "Into The Desert" exhibit at the Imperfect Gallery.
Pictured is one view of the transformation of the gallery into Rephael's "desert"- the installation consists of 1,200 square feet completely lined with matzo with two tons of sand on the floor and two matzo towers; one with a flickering flame and the other with roiling smoke from its top.
Rephael was featured on Newsworks discussing his exhibit and the significance of the 40 days in the desert to which it refers just prior to the opening.