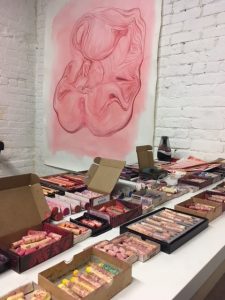 Show Schedule:
solo exhibition at Brooklyn Playground December 2-29, 2018
group show at Aqua Art Miami December 5-9, 2018
interview with New York Studio School appearing week of December 3-7, 2018
residency at Brooklyn Art Cluster October 1-December 31, 2018
group show Moore Faculty Triennial Exhibition January 26-March 16, 2019
participated in Gowanus Open Studio October 20-21, 2018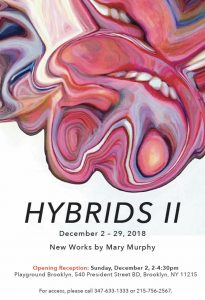 December 6-9, 2018
Aqua Art Fair
with SHIM/ArtHelix Gallery, Brooklyn Room #227 Miami Beach, FL
http://www.aquaartmiami.com
VIP Preview December 5, 3-10pm
December 3-7, 2018
New York Studio School interview
I've just completed a studio visit with the New York Studio School, which will be published on their website; the link is above. Please note this link becomes active during the week of December 3-7.
I have two digital prints in this show, which is part of Miami Art Week.

October 1-December 31, 2018
Brooklyn Art Cluster National Residency 540 President St. Brooklyn, NY 11215
I have been granted a three month residency to create new work at Brooklyn Art Cluster. I'll be working on completing the last two drawings from my Hybridseries and experimenting with creating new images on Mylar. You can see my Hybrid series on my website. Thanks to Joonhyun Hwang, Founder/Director of Brooklyn Art Cluster, for this opportunity. See more about Brooklyn Art Cluster and their residency program at http://www.bklynartcluster.com.
Opening in January 2019
January 26-March 16, 2019 Faculty Triennial Exhibition The Galleries at Moore College of Art & Design 20th Street & The Parkway Philadelphia, PA. 19103 Opening Reception Friday, January 25, 5-8pmI will have one of the large Hybrids in this faculty show.
October 2018
October 20-21, 2018 Gowanus Open Studio Brooklyn Art Cluster 540 President St., Studio #13 Brooklyn, NY 11215 Opening Saturday & Sunday noon-6pm
In October, I participated in the Gowanus Open Studio with Brooklyn Art Cluster. Thanks to all who came and to Joonhyun Hwang, once again, for including me in this celebration of Gowanus.